Models of endless slopes Proleski Alpine ski simulators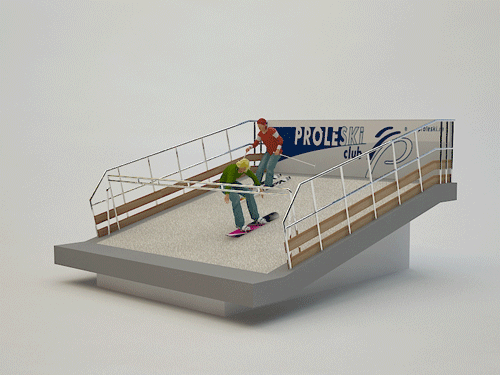 | | | | | |
| --- | --- | --- | --- | --- |
| Proleski Pro 1 | Proleski Pro 2 | Proleski Pro 3 | Proleski Pro 3V | Proleski Pro 3D |
Features of PROLESKI skiing simulators' models
No

Item

PRO1

PRO2

PRO3

PRO3V*

PRO3D**

PRO1Сross

1

Overall width, mm

5570

5570

5570

5570

5600

4100

2

Overall length, mm

5082

8748

11081

11081

6893

5485

3

Working width, mm

4650

4650

4650

4650

4650

3500

4

Working length, mm

3082

7000

9400

9400

5000

4500

5

Upper base height, mm (changes considering Art. 7)

1400

2410

2810

3630/3830

2705/2905

-424/+1216

6

Lower base height, mm (changes considering Art.7)

636

636

636

636

950

800

7

Slope angle °, (a range is chosen depending on the Customer's requirements and capabilities of the location)

13,5°

13,5°

13,5°

V: 8° - 18°

V: 8° - 18°

G:+/- 5°

V: -3°+ 15°;

Total run 18°

8

Weight, kg

2700

4500

5600

6200

6800

2900

9

Power consumption (operating / maximal power), kilowatt-hour /ч

3,5/15

7/22

7/22

20/37 kW

25/42 kW

7/22+5

10

Working surface

22 mm nap surface

Smooth

11

Maximal band movement speed, km/h

25

25

25

25

35

44

12

Drive shaft and driven shaft

Rubber-coated with protector

13

Band stabilization system

Automatic and requires no manual adjustment of band tension

14

Load distribution, number of points

4

6

6

6

Platform

4

15

Min distance to the wall / other simulator, mm

50

50

50

50/100

175

50/100

16

Smooth speed adjustment

+

+

+

+

+

+

17

Brake module for quick stop

+

+

+

+

+

+

18

Fixed control panel

+

+

+

+

+

+

19

Remote control panel

+

+

+

+

+

+

20

Indication panel with LCD monitor V km/h, S km, t min.

option

option

option

option

19,5"

42"

21

Automatic switch-off zones

+

+

+

+

+

+

22

Guard rail

Aluminum with wooden (beech) bump stop

(on demand) stainless steel + Plexiglas

23

Start plank

Stainless steel

(on demand)

24

Bearing structure, treatment

Zinc-coated light steel framing

Powder painting

25

Automatic water feed for moisturizing

+

+

+

+

+

No

26

Slope adjustment speed, degree / sec.

No

No

No

1°/ sec.

1°/ sec.

1°/ sec.

27

Track programming and simulation system

No

option

option

28

Safety suspension system

option

29

Mirror stand

option

30

Ergo-spirometric system

option

31

PROLESKI billing system, computer managed

option
Peculiarities of Proleski endless slopes
Compatibility of standards: Overall width of the popular Proleski Pro 3 ski simulator model is equal to 5570 - 5670 mm, fitting into construction standards for premises with axes step of columns equal to 6000 mm, allowing this simulator's installation at virtually any desired place. The distribution of the simulator's weight load onto 10 feet allows its placement at any storey of modern buildings.
Relevance: We have studied the best world analogues and then elaborated and enhanced all their vulnerable points and trouble spots. We apply state-of-the-art materials and treatment technologies; topical design, automatic water feed, multilevel electronically-controlled security system; software system, ensuring comprehensive registration of equipment functioning, personification, customers' databases, and various functional settings. We use materials and components, produced by leading European manufacturers only – SKF, Lenze, ABB. Our equipment is reliable and functional.
Working surface: we use a new technology with no application of any glue, consisting in special thread netting, which ensures better dynamic performance for slipping and extension of the service life period. In addition to that we can apply special concentrate to enhance carpet slipping, developed with application of nanotechnologies (which has no color or odor and is chemically inert). The American carpet manufacturer guarantees 5000 hours of continuous running.
We provide a 24-month guarantee for all equipment and the post-warranty service. Program complex advantage: along with the video surveillance system and the Internet access there is a possibility for a complete remote control.
Equipment price is comparatively lower than the one of the European manufacturers, at that complying with the top quality standards.
Consultations and transfer of basic instructions and materials on arrangement and conduct of such business are included into the equipment cost.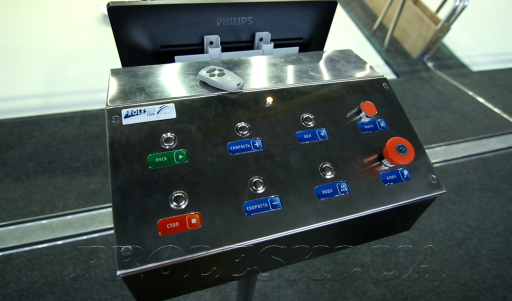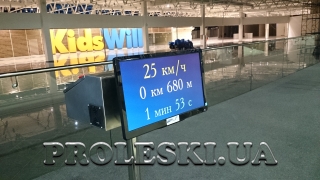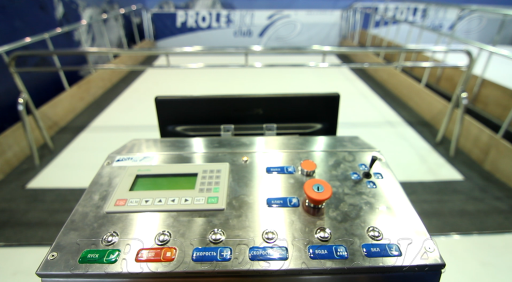 Technical requirements for premises with two models of Proleski PRO 3 ski simulators
Electricity. The premises must have a three-phase electric cable with the voltage of 380 Volt and an earthy central core. On-peak power for two Proleski Pro 3 simulators – at least 44 kilowatt.
Water supply and sewage system. Water consumption – up to 10 l/hour for Proleski PRO 3 endless slopes.
Floor. Maximum safe load on the bridging must be within 500 kg per square meter (bearing foot square: 20х30cm= 600 cm2; at that the load on 4 feet is not uniform and may reach approximately 2 000 kg per foot). At all simulator's installation places along the full square it is allowed to have surface irregularities in the horizontal plane – not more than 2 cm per 12 m. Pro 3M10 model has load distribution for 10 feet. It is also possible to distribute the load through a metallic structure to reduce the load per square meter. The premises must be at least 4.6 m high for normal installation of Proleski PRO 3 simulators.
We design and manufacture Proleski Alpine skiing simulators and can fit them into virtually any suitable premises, taking into account the existing columns and permissible loads.